TMMS Lecture Series — Glenn H. Mullin
Glenn lived in the Indian Himalayas between 1972 and 1984, where he studied philosophy, literature, meditation, yoga, and the enlightenment culture under thirty-five of the great living masters from the four schools of Tibetan Buddhism. He is presently based in Mongolia, but offers a regular U.S. lecture tour, during the winter months. Last year, his visit to the DC area was met with great enthusiasm and we are delighted to extend again, this wonderful opportunity. Those who wish to participate may do so for one event, or for all three offering a week beginning with good spirits and new mindfulness.

---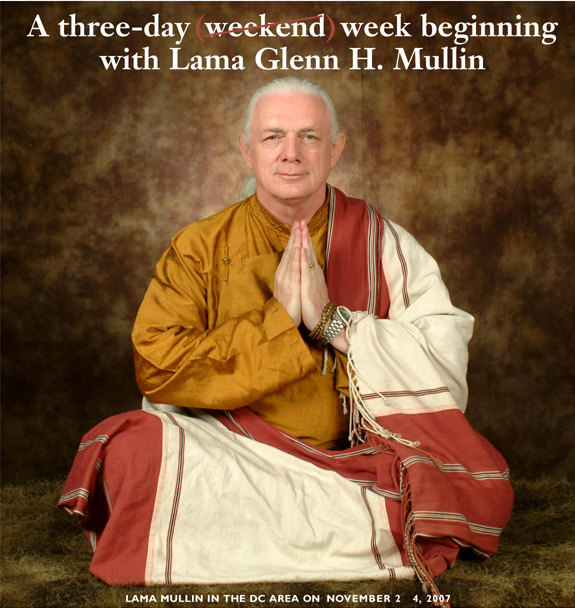 ---
Meditation, followed by a book reading and discussion from Lama Glenn's latest work,
"Buddha in Paradise"
Date/Time: Friday, Nov. 2nd from 7:30 pm to 9:30pm
Location: Mindful Hands • 211 King St, Alexandria, VA • (703) 683-2074

"The Six Yogas of Naropa" — A workshop and guided meditation, based on Glenn's two books on the Naropa system
Date/Time: Saturday, Nov. 3rd from 1:00 pm to 3:00 pm
Location: Mindful Hands • 211 King St, Alexandria, VA • (703) 683-2074

A guided tour of Smithsonian | Freer & Sackler Galleries
Date/Time: Sunday, 4th from 2:30 pm to 3:30 pm
Location: Tour will meet at the information desk of The Freer Gallery of Art Mall Entrance • Jefferson Drive at 12th Street, SW. Washington, DC

Please contact us for more information.
There is no fee to attend, but we ask that you please rsvp by email, or call 703-888-0932.

---
Our special thanks to Palyul Changchub Dargyeling, D.C. Area. PCDC is a group of Buddhist practitioners in the Palyul lineage of the Tibetan Nyingma tradition and is one component of a world-wide network of teaching and practice centers founded by their spiritual leader, His Holiness Penor Rinpoche, the eleventh throne holder of the Palyul lineage. They also follow the guidance and personal examples of His Holiness and of their teacher, Khenchen Tsewang Gyatso Rinpoche.